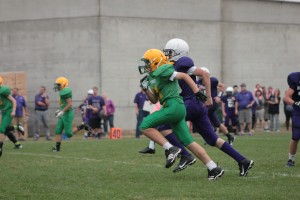 Hi, my name is Tim. I am the third of six children and am in the eighth grade. This year I played football for my school's football team. We had an undefeated season. I like to play football with my brothers and neighbors. In football, I played as a safety and kicker. My favorite football team in the NFL is the Seattle Seahawks.
In school, I have Language Arts, General Music, History, Algebra 1, Science and Spanish. So far, my favorite class is Spanish.
Some places that I have been to include: Seaside, Oregon, California and through 12 different states of the western half of the United States (Colorado west). We saw several different cities, landmarks and National Parks.